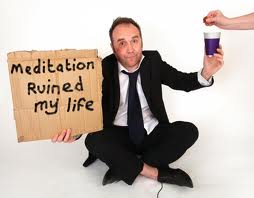 GOODNESS AND THE GENEROSITY OF THE HEART IS THE BEGINNING OF MEDITATION Meditation:
Medicine for the mind
As of late I have been breaking bread and communing with the evangelical Christian singles. Although I am not of that particular ilk of religious veneration of conviction, for I consider myself a zealot and a humble elitist when it comes to being a perpetual student with an ecclesiastical predisposition.
The phenomenon of speaking in tongues is embraced as a badge of higher spiritual attainment, both in private and in outlandish public displays of very enthusiastic non interpretative rhetoric in a babble of blather, that is euphemistically liken unto the  "Gobbledygook" of the mad hatter. For the record I do believe in the spiritual gifts of tongues as long is there someone there to interpret thereof, a language of the heart that that can be readily conveyed  and readily to depart,  otherwise all there is a void filled with a fervent incomprehensible noise that lays no claim to the wisdom of understandings impeccable frame.
So likewise ye, except ye utter by the tongue words easy to be understood, how shall it be known what is spoken? for ye shall speak into the air. Saul T
There is a rub, as there always was; the unintelligible resonant voice is tantamount to chanting, liken unto what the Buddhists do, thus creating a spiritual high in the form of an altered state of consciousness, Alpha!, even Beta I Theta.
The quelling of the mind has been a noble quest and some religions make it a focal point. The Japanese use simple propositions with no apparent answer so initiates can meditate on a question that poses no answer "The sound of one hand clapping" (perhaps an idle slap to non-receptive rump, initiating an indignant clap to the face of a fool with a thump that resounds in the thunder of blunder)
The Buddhists attain higher or alter states of consciousness with the resonant chant of repetition. The Hindu believes that if one could slow the mind to a pause and then to a full  stop you now become a conduit to universal consciousness, and will be taken up in a fiery self conflagration to Nirvana. (Which is Hebrew for Valhalla?)
Contemplative prayer is meditating on the word of God. When Reading the Bible especially the King James Version, because it is in Middle English with its unfamiliar vernacular thus requiring  the mind to slow down changing its state in and through a thoughtful contemplation.
All these disciplines and there are more, many more, are all but an attempt to know the peace that comes from the quieting of the mind. God had admonished
Be quite and know that I am God.  Meditation takes discipline;
the problem with discipline is that it takes motivation, the problem with motivation is that, not now becomes manana . 
In recovery we are asked, lo, implored to keep it simple, simple but not stupid. I suggest to my new sponsees that prayer and meditation is an essential part of the recovery process. If we are both on the same page as far as flavor of spiritual or religious conviction it makes it easier, if not I suggest for them to pray to whom it may concern. I suggest getting down on ones knees, if this isn't familiar or regular habit, start by putting your shoes under your bed, so now you are already down on your knees (Being on your knees is a sign of respect and humility to God, versus being forced to your knees from the humiliation of the alcohol disease) In the morning ask for help and at night a simple thank you for another day and another night clean and sober, free from alcohol's blight) You have just now spoken to God, to complete the conversation a listening time is required, stay on your knees and remain in the quite for twice as long as you prayed, stay in the feeling and stay in the moment neither thinking or trying how not to think, just be, it might a little uncomfortable at first being alone with your thoughts until you realize you are not alone, you are beginning a relationship, one on One with the creator of the universe, how cool is that?
To make a long story endless I would tell you a firsthand account of David E. . .
Early on in his recovery he was having an animated conversation with God as one man talks to another, after a bit of time he chimed in his mind that he was not speaking to God he was but talking to himself, David confided that he was not being slighted when he heard a still small voice exclaim the words that were understandably clear and most distinct, "I am you, but you are not me"
See you on the radio
RumRadio.org
Joseph