AREN'T YOU ASKING SOMEBODY FOR A BIG FAVOR TO SPONSOR YOU?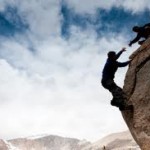 BILL WILSON REPLIED TO ROBERT SMITH (DR. BOB) I AM NOT HERE TO KEEP YOU SOBER, I AM HERE TO KEEP ME SOBER
It isn't a favor you're asking. Sponsoring is one of the ways in which program members stay in recovery, so it's both a privilege and a necessity for us. It may not seem so to the newcomer; a sponsor gets as much out of the relationship as the sponsee- maybe even more. Therefore, most program members want to sponsor new people, unless they already have as many sponsees as they can handle. Don't let your fear of being a burden on somebody keeps you from finding a sponsor. Many of us consider the opportunity to sponsor a treasure beyond measure.