HOW IS A SPIRITUAL ADVISOR DIFFERENT FROM A SPONSOR?
My spiritual advisor is the Oracle of Delphi; after reading the appropriate entrails she has concluded that if I don't get busy working the Steps, I am screwed.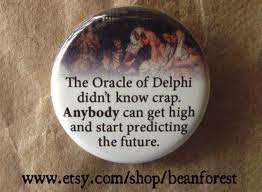 Some Twelve Step members choose a non-addicted spiritual advisor who they think is especially qualified to help them with the spiritual aspect of their program. They work closely with them, just as they would with their primary sponsor, but their focus is on spiritual development. In essence, these spiritual advisors function as spiritual sponsors even though they are not members of a Fellowship.
Because Twelve Step programs are fundamentally spiritual, it is impossible to separate the spiritual from the work we do with our primary sponsor (unless we are atheists or agnostics closed to the idea of developing spiritually). For that reason, many members never choose a spiritual sponsor, relying on their primary sponsor instead. Dr Bob is an example.