WHAT IF MY SPONSOR SLIPS?
To fall out of fault, to slide out of place ,to lose all ability to show some restraint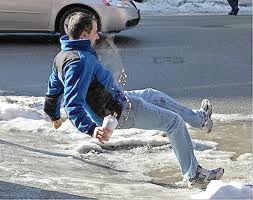 A SLIP IS A TEMPORARY LOSS OF BALANCE QUICKLY RECOVERED
THEY WENT OUT, HOW FAR OUT? WAY OUT? AND SOMETIMES IT'S OVER AND OUT
If your sponsor uses or drinks, do not walk, but run to find a new sponsor. A sponsor can only help you work the Steps that they have worked. A sponsor who uses or drinks has not worked the First Step.
It is always traumatic to lose a good friend to active addiction, and it is even more so when the friend is your sponsor. You may wish to increase your meetings as you adjust to the shock. Keep in mind that your own recovery is dependent upon God and the program, not your sponsor. Even though your sponsor's slip is frightening and painful, it does not endanger your recovery.
There shouldn't be any gurus in Twelve Step programs because we are all only one slip away from active addiction. For that reason and others, i.e. (circuit speaker, someone who has obtained some level of A.A. notoriety, a self proclaimed Stepologist and creator of rumradio.org), it's risky to put anyone in the program on a pedestal, including a sponsor. None of us belongs there and none of us do well there. Sponsors are special people to us, but like all alcoholics or addicts, they have clay feet. They sometimes need to push the envelope of sobriety until it breaks.