SOUGHT THROUGH PRAYER AND MEDITATION TO IMPROVE OUR CONSCIOUS CONTACT WITH GOD AS WE UNDERSTOOD HIM, PRAYING ONLY FOR THE KNOWLEDGE OF HIS WILL FOR US AND THE POWER TO CARRY THAT OUT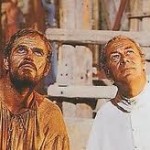 Pope Julius the second to Michelangelo "When will you make an end" (Painting the ceiling of the  Sistine chapel, it was an early  union job) ? Michelangelo (Buonarroti) replied "When it is done!"
The A.A. Big Book says But we must go further and that means more action. Your sponsee is ready to take Step Eleven when a commitment to work   Step Ten on a  regular and consistent basis.
Time to read, because it's more that we need.
Those pages in the A.A. Big Book that cover Step Eleven (pages 85-88)
Step Eleven in the A.A. Twelve and Twelve (pages 96-105)
Are there any questions?
What is Prayer?
What is meditation?
How often do you pray and meditate?
What would it mean for you to improve your conscious contact with God?
What is your understanding of God?
Why pray only for knowledge of God's will?
Why pray for the power to carry out God's will?
Our sobriety depends on the maintenance of our spiritual condition. The powerlessness over our addiction or compulsion that nearly destroyed us will return and will return with a vengeance if we do not work on maintaining our contact with God or (God as we understood God). In Step Eleven, we carry that goal further : We seek to improve and to grow that conscious contact with God.
NASA, WE HAVE MADE CONTACT, IT'S A CLOSE ENCOUNTER OF THE SPIRITUAL KIND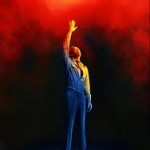 Prayer and meditation are our principal means of conscious contact with God's say's the A.A. Twelve and Twelve. Bill Wilson writes There is a direct linkage among self-examination, meditation, and prayer. Taken separately, these practices can bring much relief and benefit. But when they are logically related and interwoven, the result is an unshakeable foundation for life.
A wise man once said to pray continuously, that's great but how am I going to get anything done always down on my knees? The wise man said to keep in your heart the songs of David, a song of life acknowledging God in all things and in all ways and in thanksgiving. An attitude of gratitude is a prayer unto God.
Both the A.A. Big Book and the Twelve and Twelve refer to the benefits of prayer. Almost the only scoffers at prayer are those who never tried it enough quotes the Twelve and Twelve.  We have found that the actual good results of prayer are beyond question. They are matters of knowledge and experience. All those who have persisted have found strength not ordinarily their own. They have found wisdom beyond their usual capacity. And they have increasingly found a peace of mind which can stand firm in the face of difficult circumstances.
I am very familiar with prayer, I prayed every time I got into trouble, I also prayed when the S.O.B. on the freeway would cut me off , I would pray he would fall into a ditch. Meditation, now there's a rub. The committee in my head is ever so busy running the world,  how do the angels get to sleep when the devil leaves the porch light on?
OPERATOR, I WOULD LIKE TO PLACE A LONG DISTANCE CALL TO THE CREATOR. PLEASE HANG UP AND TRY AGAIN, IT'S A LOCAL CALL.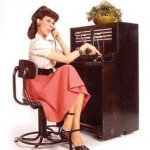 Prayer is like a telephone call to God. We tell him how great we think he is, and we tell him that he has the final say. We put in our shopping list (our bread and butter and a Mercedes Benz), we tell him we are a forgiving sort and would claim that the price of grace  was already bought.
We tell him the world is a very tempting place and to please steer us clear with the help of truth and grace. We ask for a special delivery from the evil design and its cruelest cut that is most unkind. Thanks again, you're the greatest, I do attest, and it's amen to boot. I would love to sit and chat a bit longer but I'm burning daylight and need to scoot, CLICK.

I wonder why he (God) never talks to me?
Meditation is the listening, I've heard tell be quite and know that I am God. Meditation for most is a difficult concept to embrace. What I suggest is to remain in the attitude of  humility for twice as long that you had prayed , stay in that  moment and in that feeling , it's a magical time of inspiration and answers and intuitive thought  come just that way. Be silent and give God  a chance to  talk , it's a way to get to know him.
PRAYER IS THE  QUARTERBACK, MEDITATION IS THE FEED BACK, AND SELF-EXAMINATION IS THE GOAL LINE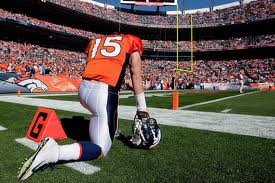 The unexamined life is not worth living, as a life in recovery is to die for
Part of all prayer and meditation is self-examination. Bill Wilson writes, As we have seen, self-searching is the means by which we bring new vision, action, and grace to bear upon the dark and negative side of our natures. It is a step in the development of that kind of humility that makes it possible for us to receive God's help. Our character defects stand between us and our serenity, between us and the sunlight of the spirit, between what we are now, and what Gods would have us be .
WHAT IS THE MOST RIGOROUS LAW OF OUR BEING? GROWTH (Mark Twain)
The program of prayer and meditation the A.A. Big Book lays out in Step Eleven is rigorous. We are a rebellious lot and would prefer things our own way, customized and just for us. Instead of seeking humility on a daily basis, we would rather hold on to the last vestiges of the illusion of control and continue to suffer from terminal uniqueness.
I'M BUSY, SO, SO BUSY, TOO, TOO BUSY
People are seldom too busy to stop and tell you how busy they are.
Too busy to take time out from my busy day for prayer and meditation, there must be an easier softer way.
We resist submitting to our God even when we have convincing evidence that such submission is the only way to real power. The answer seems to lie in self-will run riot.
BAD DAY AT BLACK ROCK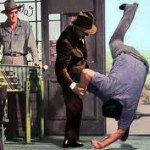 Bill Wilson wrote that "when we aren't doing well, the chances are better than even that we shall locate our troubles in our misunderstanding or neglect of A.A. Step Eleven prayer, meditation, and the guidance from God. He continues, The other Steps can keep most of us sober and somehow functioning. But Step Eleven can keep us growing, if we try hard and work at it continually".
IT PAYS TO PLAN AHEAD, IT WASN'T RAINING WHEN NOAH BUILT THE ARK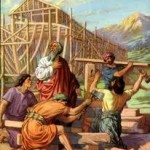 Upon awakening, the A.A. Big Book suggests that we "think about the twenty-four hours ahead. We consider our plans for the day. Before we begin, we ask God to direct our thinking, especially asking that it be divorced from self-pity, dishonest or self-seeking motives.
As we think about the forthcoming day, we ask God to help us determine the proper course of action when we face indecision. We ask God for inspiration, an intuitive thought, or a decision. We relax and take it easy. We don't struggle. We are often surprised how the right answers come after we have tried this for a while. What used to be the hunch or the occasional inspiration gradually becomes a working part of the mind.
SLOW DOWN, YOU MOVE TOO FAST, TRY TO MAKE THE MEDITATION LAST
The purpose of meditation is to slow down the constant chatter that takes place in our minds; we sometimes call this phenomenon the committee. The goal is to become a conduit for  God continuously, to make room for the inspirational thought or decision. There is a law irrevocably decreed that matter cannot occupy the same space at the same time. This is a physical law; I believe that it also translates into the spiritual law. When we meditate we ask our ego and his cronies, self-centeredness and self-will, and their sidekicks, fear and indecision to take a hike. We now have room for our new employer, God and his  loving instruction.
GOODNESS AND THE GENEROSITY OF THE HEART IS THE BEGINNING OF MEDITATION
Some Twelve Step program members use meditation books with appropriate themes and quotations. Twenty-Four Hours a DAY  is the A.A. classic. Others meditate on portions of the A.A. Big Book and the Twelve and Twelve. Favorite meditation selections in the A.A. Big Book include the Third Step Prayer (page 63) Seventh Step Prayer (page 76), the Promises (pages 83-84), A Vision for You (page 164). However you do it, its purpose is to help you feel the presence of God and to sense God's direction in your life.
IS THAT HOW IT'S DONE AT THE WORLD FAMOUS ADDICTION MONASTERY IN THAILAND? (Thamkrabok)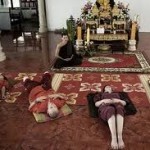 We conclude our period of morning meditation with a prayer that we be shown all through the day what our next step is to be, that we are given whatever we need to take care of such problems. We ask especially for freedom from self-will We are careful never to pray for our own selfish ends.
Robert Smith MD, A Doctor Devoted To Humanity, And A Proctologist With  Penetrating  Spiritual Propensity.
Dr. Bob's morning devotion consisted of a short prayer, a twenty minute study of a familiar verse from the Bible, and a quiet period of waiting as directions as to where he, that day should find use for his talents. Having heard, he would religiously go about his Father's business, as he put it.
WHEN YOU PRAY TOGETHER YOU STAY TOGETHER, ALL TOGETHER NOW
Bill Wilson and his wife Lois continued their morning meditation together until his death in 1971. Bill said, "I sort of always felt that something was lost from A.A. when we stopped emphasizing the morning meditation".
PRAYER IS NOT JUST FOR BREAKFAST, IT'S ALSO AN EMOTIONALLY BALANCED LUNCH
The A.A. Big Book suggests, As we go through the day we pause, when agitated or doubtful, and ask for the right thought or action. We constantly remind ourselves we are no longer running the show, humbly saying to ourselves many times each day, Thy will be done.We are then in much less danger of excitement, fear, anger, worry, self-pity, or foolish decisions. The Twelve and Twelve reminds us that meditation is in reality intensely practical. One of its first fruits is emotional balance.
FOR A LATE NIGHT SNACK, PRAYER AND MEDITATION IS CHUCK FULL OF FACTS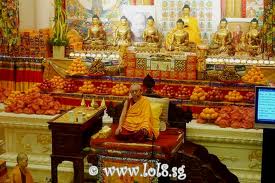 Upon retiring, the A.A. Big Book says, we constructively review our day. Were we resentful, selfish, dishonest, or afraid? Do we owe an apology? Have we kept something to ourselves which should be discussed with another person at once? Were we kind and loving toward all? What could we have done better? Were we thinking of ourselves most of the time? Or were we thinking of what we could do for others, of what we could pack into the stream of life?
FOR ALL THE NEWS AND CURRENT EVENTS WE REVIEW OUR DAY, INVENTORY AT ELEVEN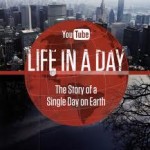 We take inventory of our behavior and the character defects that manifested themselves, we ask God's forgiveness and inquire what corrective measures should be taken, what lessons have we learned to effect positive change? How has our will been in line with God's will, and how has it clashed? Before I lay me down to sleep, the answers to these questions is what I seek.
THEY ARE CALLING OFF THE MACY'S THANKSGIVING DAY PARADE, MY OVER BLOWN EGO IS BEING DEFLATED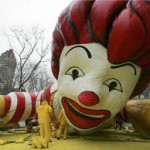 With Step Eleven, we complete the process of ego-deflation that we began in the First Step by praying only for the knowledge of God's will for us and the power to carry that out. We are acting on the decision we made in Step Three more fully. We cannot work Step Eleven perfectly, some ego remains in the folds ever ready to take back control. But we have, over the course of working eleven steps, developed a true spiritual basis for living. That basis is humility: putting God's will before our own.
DEAR GOD, I WANT EVERYTHING AND I WANT IT NOW, IF I MISSED ANYTHING GIVE IT TO ME, GIVE IT TO ME, ANYHOW
A timely tip from Dr Samuel Shoemaker, Bill Wilson's spiritual advisor, said that a person must grow up and stop using God and begin to ask God to use him [or her].
According to this Episcopal priest (in words from the 1950's) Real prayer is not telling God what we want. It is putting ourselves at His disposal so that he can tell us what he wants. Prayer is not trying to get God to change His will. It is trying to find out what His will is, to align ourselves, or realign ourselves with his purpose for the world and for us.
Hence the Step suggests we pray only for the knowledge of God's will for us and the power to carry that out. Bill Wilson suggested that when making specific requests, it would be well to add to each one of them this qualification: if it be Thy will.
There were two fellows in my home group who confided in me, in order to stay true to program principles they made an agreement that each would pray for the others wants if not needs. They asked if I would like to join them in a threesome of creative  circumvention of the spirit, while maintaining the law of gain to deadly perfection
ASK WHAT YOU MAY, FOR IT JUST MIGHT BE OK, IF IT'S GOD'S WILL, AND NOT UNTIL
CLEAN SURFACE OF ALL DEBRIS, SCOUR  THE RUST OFF OLD BEHAVIOR AND ALL THE GREASE FROM THE SLIPPERY SLOPE OF INACTIVITY, A FIX FIRMLY WITH THE SUNNYSIDE UP.
Every day and in every way, Step Eleven comes into play. First thing in the morning and last thing at night, lest I forget, whenever we face indecision or feel agitated while we are burning daylight. The A.A. Big Book is specific about how the Step is to be applied. Bill Wilson wrote. It would be easy to be vague about this matter [of prayer and meditation].Yet we believe we can make some definite and valuable suggestions.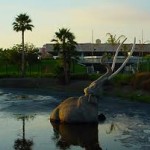 AT THE LA BREA TAR PITS, SOME MASTADONS OF RECOVERY HAVE BECOME STUCK, PRAYING  ONLY TO  KNOW WHEN ITS TIME TO DUCK
Beware of falling into the trap of thinking that Step Eleven is being fulfilled if we only pray now and then or when we are in trouble. Step Eleven lays out a rigorous program of prayer and meditation that we are to follow each and every day, including nights, weekends and, holidays.
Self-discipline is not one of our strong points, but it has to come into play with this Step. We are kidding ourselves if we think that Step Eleven comes naturally to most of us or is a Step to be worked infrequently. Without living the regular program of prayer, meditation, and self examination described in Step Eleven, we are not working the Step.
Our performance over the years may be a bit hilly with peaks of enthusiasm and valleys of complacency. Sometimes we are willing and sometimes not. Especially in the beginning, we may have to put out a lot of effort to develop the habit. A good habit is a narrow path that takes balance, patience, diligence, and self-discipline. A bad habit is a broad highway that asks no toll nor warns of its destruction from its imminent fall
Bear In Mind that, Patience  Is Bitter, But It's Fruits are Sweet.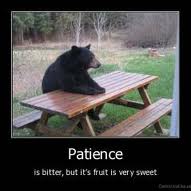 Once developed, however, the fruits of practicing Step Eleven create a momentum that carries us ever sweetly forward. Even so, we will on occasion fall bitterly back into default mode and into our old ways. Such regressions are one of the reasons we need sponsors to remind, encourage, and discuss why we are not working the Step.
THE LINES ARE DRAWN WE COLOR OUR LIVES WITH PRAYERS FOR DIRECTION, WE MEDITATE FOR A DEEPER SPIRITUAL CONNECTION, AND WE LOOK TO OURSELVES IN AN UNFLINCHING SELF- EXAMINATION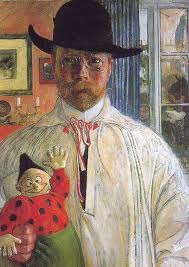 Outline the rigorous schedule of prayer, meditation, and self-examination that the Eleventh Step suggests.
A question that is often asked by sponsees is, When has Step Eleven been worked The answer is that it has never been worked. Since the Eleventh Step is a daily process that continues for a lifetime it is an ongoing work. When your sponsee has committed to work the Step and is on his way  to developing  a habit of daily prayer, meditation and self-examination and has started to l develop a sense of  a conscious contact With God (as they understand God) the Step is being worked. For purposes of moving on to Step Twelve, it also can be considered taken.
CHECK TO SEE IF WE HAVE RUNNERS ON THE ALL BASES
Is your sponsee seeking to improve their conscious contact with God by following a regular program of daily prayer, meditation, and self-examination in the morning through the evening and at super time?
Does your sponsee pray only for knowledge of God's will and the power to carry it out?
Has your sponsee committed to working the Step in this manner long to have a continuing commitment? (The commitment is the key ,not the length of time as only practice takes practice)
Bases are loaded, top of the Twelfth, your sponsee's up.