GIVE ME THE HEADS UP ON THE LOW DOWN, DO I HAVE TO TAKE THE FIFTH STEP WITH MY SPONSOR?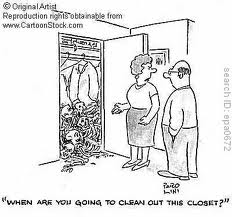 No one person knows where all the bodies are buried, besides, if but only a closet full of skeletons, I could cancel my Public Storage lease.
No, you do not, but there should be a darn good reason for not doing so. The Fifth Step is an opportunity for your sponsor to get to know you on an intimate level that few people ever get to experience and for you to make yourself vulnerable to someone that is important to you. Since some of the information in the Fifth Step will resurface in the Ninth Step, your sponsor will have a unique vantage point since they have already heard your Fifth Step. Also, because your sponsor knows you well and will be able to recognize patterns in your behavior that need to be brought to your attention.
THERE IS NO LAW WEST OF THE MISSISSIPPI, AND NO GOD WEST OF THE PECOS Judge Roy Bean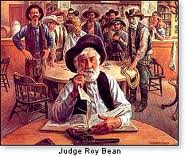 If you don't want your sponsor to hear you're Fifth Step because you don't trust your sponsor to keep your confidence or because you think that they may harshly judge you, consider finding another sponsor. It's essential to develop trust in someone else, and your sponsor is the most likely candidate. That's one of the reasons they're your sponsor.
IT'S A PRIVILEGE TO HEAR A FIFTH STEP, BUT WHAT IS SAID IS NOT PRIVILEGED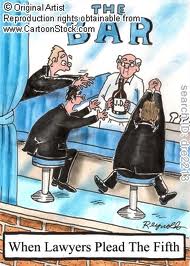 IT'S NOT WHAT GOES INTO A MAN'S MOUTH THAT DEFILES HIM, IT'S WHAT COMES OUT
There may be some information that you need to omit from your Fifth Step with your sponsor. Conversations between a sponsor and sponsee are not considered privileged (information that is legally protected from being revealed to third parties) in the way that confidential disclosures to doctors, lawyers, clergy and spouse's (Just in case you have a death wish).Therefore, if you have to reveal information that could be seriously damaging, you may wish to reserve that part of the Fifth Step for the clergy with whom the revelation will be safe.
The A.A. Twelve and Twelve states, It may turn out, however that you'll choose someone else [other than your sponsor] for the more difficult and deeper revelations. This individual may be entirely out of A.A.  for example, your clergyman or your doctor. Having legally sensitive information in a Fourth Step is not an excuse for "avoidous Fifth Stepus"; it merely changes the players who will hear all or part of the Step.
WHAT IF I CAN'T REACH MY SPONSOR-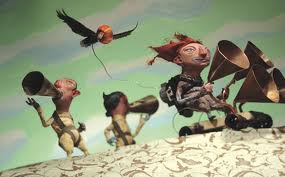 WHERE WERE YOU WHEN I NEEDED YOU
Don't bother cryin
Don't bother crawlin
It's all over now
No use in stallin
THE GRASS ROOTS
Call someone else you know in the program, or someone you don't know. Sponsors are important to us, but they have no special powers. There are no superman or superwomen sponsors although an argument can be made for Bat @%& crazy sponsors. Like other program members, they can only share the experience, strength, and hope. In an emergency any program member can do the same.
THE LIST OF ADRIAN MESSENGERS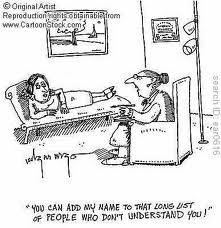 It's no mystery we are all linked together for our common purpose of attaining and maintaining sobriety. Carry a list of Twelve Step members phone numbers in your wallet or purse to use in an emergency; this comes in handy especially when you're out of town. If you don't have a list with you, call the local intergroup or Central Office in your community. If necessary, call New York City or some other city where the office is likely to be open late. Remember we have agreed to go to any length to achieve sobriety, and directory assistance is such a little length.
DO I HAVE TO DO WHAT MY SPONSOR SAYS?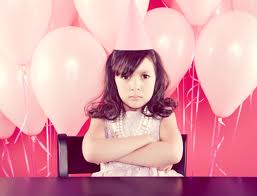 Vizzini: As I told you, it would be absolutely, totally, and in all other ways …I'm sure you've discovered my deep and abiding interest in pain.
Actually no, but you might want to consider why you are resisting the suggestion your sponsor has offered. If you think that your sponsor is wrong, we discuss the issue using the Big Book, the Twelve and Twelve, your grand sponsor and God as the final arbitrator.
ELECTRO GLIDE, SHOVELHEAD, SPORTSTER, OR SOFT TAIL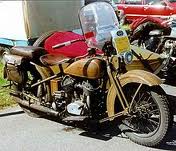 Sponsorship styles vary significantly from person to person. Some sponsors are stricter than others; some are more inclined to offer advice, make demands, or give orders. For some people new to recovery, being told what to do may work, for others, it does not. If your problem with your sponsor stems from their style rather than from one or two specific suggestions, discuss this issue. their sponsorship style is to tell you what to do rather than offer suggestions or share their experience, strength and hope, you have a right and an obligation to bring this up to your sponsor. While you sponsor may guide your recovery program, it is not their responsibility to run your life. No matter how poorly we managed in the past, it remains our life and personal responsibility is a cornerstone of long term recovery.
WHAT IF MY SPONSOR IS OVERPROTECTIVE AND WANTS TO RUN MY LIFE?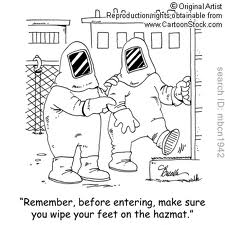 My sponsor covers me like a cheap hazmat suit
Confront the overprotection by discussing it with your sponsor. If your sponsor agrees with you (good luck) and is willing to do something about it, you have strengthened the relationship. If your sponsor does not agree or dismisses the inquiry off handedly and you have been thoughtful, patient and prayerful, it might be time to find a more effective sponsor. A sponsor's behavior style in early sobriety might have worked and worked well and may not be as effective for you later on. Don't rationalize yourself into leaving a beneficial relationship in order to escape facing an issue or doing some hard work.
WHAT IF I DON'T AGREE WITH MY SPONSOR?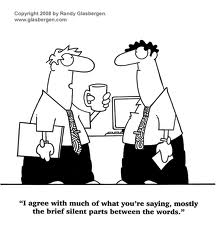 Let's agree to disagree, I can agree to that You will not always agree with your sponsor about their interpretation of the program. When the disagreement centers on an issue that can be resolved by the Big Book, Twelve and Twelve and As Bill Sees It or any other accepted program literature, go to the source and read the relevant passages. If it is a matter of opinion that is not covered in the literature, you and your sponsor can try and hammer out an agreement if the issue is important to the relationship. If it isn't or you can't reach an agreement, accept that you are each entitled to hold your own opinion. I don't agree with my sponsor on a number of recovery issues that are not critical to the sponsorship. My sponsor recently confided in me that I was self-centered. I thanked him and admitted that current events sometimes look a lot like ancient history.If the disagreement concerns your character defects, attitudes, behavior or personal problems, listen carefully. Often our sponsors will see something about us that we don't want to see or can't see ourselves. If we keep our minds open, later we may agree with our sponsor or not.
CHECK YOUR SIDE MIRRORS- BELIEFS MAY BE CLOSER THAN THEY APPEAR AND CA– USE US TO BECOME BLIND TO THE OBVIOUS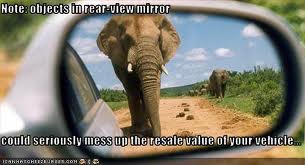 Even the most knowledgeable and experienced sponsors, however have blind spots that can lead them astray. Sponsors tend to focus on issues that are important to them since that is where their experience, strength, and hope lie. Occasionally, a sponsor may try to focus a sponsee's attention on an issue that is an issue for the sponsor and not the sponsee. Or the sponsor may project their life's experiences onto a sponsee so that only those experiences which parallel the sponsor's are acknowledged as valid. If you feel your sponsor is discounting your own experience or that your sponsor is trying to focus your attention on an issue that is not an issue for you, confront your sponsor. It is important to bring that issue out into the open where it can be dealt with. Don't hide it. If you cannot satisfactorily resolve this serious problem, you may want to find another sponsor.
WHAT IF MY SPONSOR WON'T RETURN MY PHONE CALLS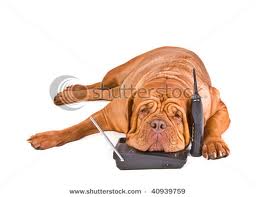 It's worse than dog-eat-dog. Its dog-doesn't-return-other-dog's-phone-calls which reminds me, I need to check my answering service.
If you are disturbed about your sponsor's telephone response rate, discuss the matter. But first, ask yourself
(1) Are my sponsor's reasons for not returning my telephone calls legitimate?
(2) Am I making unreasonable demands on my sponsor's time?
(3) Has the response rate changed? Confronting the issue and looking for the solution is more productive than ignoring it or casting silent or public blame.
One of the functions of sponsorship is to help you practice more effective behavior. Talking with your sponsor about the problem of the telephone calls is the kind of new behavior you are trying to learn.
MY SPONSOR TOLD SOMEBODY ELSE A SECRET ABOUT ME. NOW WHAT?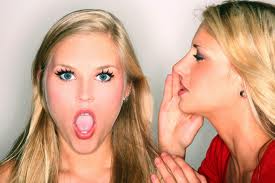 The only thing that travels faster than bad news, is good gossip
You have to decide whether or not you can trust your sponsor again. We all make mistakes. Breaking a confidence is huge; it is one of the worst mistakes a sponsor can make. If your sponsor has come to you about it and has made amends, you have to determine where you stand in the relationship. If you can put it behind you, you may wish to continue where you left off.
IF YOU FOOL ME ONCE, SHAME ON YOU, IF YOU FOOL ME TWICE, SHAME ON ME; IFYOU FOOL ME SIX MORE TIMES, IT MAKES A CHARM
On the other hand, you have the right to aggressively protect your expectation of confidentiality by your sponsor. Confidentiality is a right of sponsorship. It is the foundation on which a successful sponsorship relationship is built. We have to be able to trust our sponsors and feel safe with them in order to share our lives with them. If your confidence has been shattered, strongly consider changing sponsors. Losing you as a sponsee may be the consequence your sponsor needs in order to learn this important and fundamental lesson. If you believe that the breach of confidence was not a one time mistake but an ongoing risk, change sponsors immediately if not sooner.
MY SPONSOR KEEPS TAKING MY INVENTORY.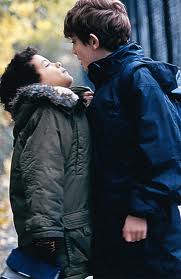 WHAT DO I DO ABOUT THAT?
I have some work to do, and because of sobriety and my relationship with God, I am not scared to do it. So thanks for taking my inventory: emilyism
It depends on what you mean by taking my inventory if you mean that your sponsor helps you identify the character defects that cause you problems and suggests that that you apply specific Steps to eliminate them, your sponsor is doing their job. If on the other hand, you mean that your sponsor is focused on listing your faults without bringing the Steps or program principles to bear on removing them, the relationship is troubled. However, be careful that you are not projecting your own feelings on your sponsor. It is easy, especially in early recovery, to be confused about what we are feeling and why.
WHAT IF I HAVE OUT GROWN MY SPONSOR?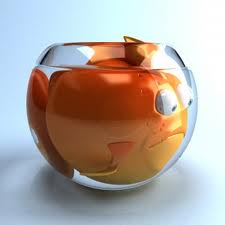 The greatest and most important problems of life are all fundamentally insoluble. They can never be solved but only out grown  Carl Gustav Jung
Find a new one. It is possible that sometimes in your recovery; you will make more progress than your sponsor and will outgrow him or her. To outgrow someone means to get ahead of that person in the program so that he or she is no longer able to help you make further progress. Having worked more Steps than your sponsor is an example. So is developing a greater maturity or being more willing to give up resentments or living in the solution while your sponsor is still living in the problem. You will know when your sponsor is no longer helping you move forward. A big part of recovery knows when to let go and move on, for the lesson is only lost in indecision and complacency.
WHAT IF I DREAD CALLING MY SPONSOR?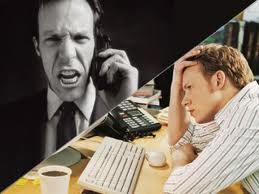 I WILL CALL MY SPONSOR AS SOON AS I FINISH MY CHORES, WAX THE CAT, WALK THE FISH, CONTEMPLATE SUICIDE; THAT'S SILLY. AFTER SUICIDE I WON'T NEED TO MAKE THE  CALL, GEE  I FEEL BETTER ALREADY.
If your dread is the rare experience occasioned by having to admit a wrong, make an amend, or own up to not having worked the program, it is part of sponsorship. If it results from being new to the program and not yet accustomed to making that daily telephone call to a new sponsor, it's part of the process. On the other hand, if it is an ongoing dread that it is not relieved by the call itself, there may be a problem in the relationship. Some sponsors shame their sponsees rather than support them within a tough love framework. If your sponsor is shaming you, but won't admit it, or if you cannot figure it out what the dread is about and cannot resolve it, find a second sponsor and see if  the dread continues. Your work should not be characterized with dread but most often, relief, comfort, understanding, direction and love. Sometimes tough love- but love just the same.
WHAT IF MY SPONSOR DUMPS ON ME?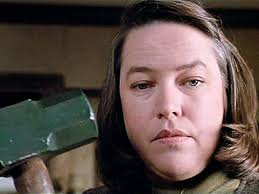 Misery Loves Company often heard, but not altogether true as misery demands company for better the many and not as much gloom with the few.
Some sponsors use their sponsees as a dumping ground for emotions they don't want to deal with and need to get rid of. They dump those feelings on the sponsee who then feels worse than when the conversation started. If your sponsor is more interested in talking about themselves than about you and if you routinely feel worse after talking to your sponsor, ask yourself if you're being emotionally dumped on. For example, if your sponsor regularly say's You think you've had a bad day. Listen to this! it may be sign of discounting your feelings while giving your sponsor the opportunity to dump his negative feelings on you. If you confront your sponsor on this practice and it continues (old dogs/new tricks), you may want to find another sponsor.
WHAT IF MY SPONSOR TRIES TO FORCE HIS OR HER RELIGIOUS BELIEFS ON ME?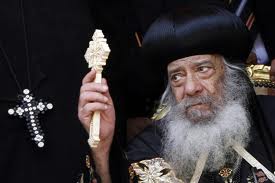 ADDICTS THAT BECOME FANATICS DEMAND AGREEMENT; THE GOAL IS THE WORTH OF A SOUL
A Twelve Step program is not a religious program. It is contrary to Twelve Step tradition for sponsors to try to convert their sponsees to their own religious beliefs (or for sponsees to try to do the same with their sponsors, as sometimes happen). The basis of Twelve Step spirituality is the acknowledgement of the validity of each person's interpretation of  God as we understand God. That interpretation depends entirely upon the individual, even if it means no God of their understanding. A program saying is that religion is for those who don't want to go to hell, and spirituality is for people who have already been there. We come to the rooms like babes in arms and you can't feed a babe meat; you can only give them milk (with no alcohol in it). Time takes time and meat remains on the menu. If your sponsor continues to insist on forcing their religious beliefs on you, you may want to change sponsor.
WHAT DO I DO IF MY SPONSOR STOPS WORKING THEIR PROGRAM?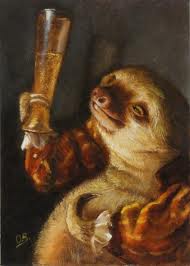 I THOUGHT MY SPONSOR WAS PLAYING POSSUM, UNTIL I REALIZED THERE WAS NO PLAY, IT WAS JUST A SLOTH
Confront your sponsor. Sponsorship is a two-way street. The relationship you have built is probably as important to your sponsor as it is to you. This is an opportunity for you to help your sponsor because of your intimate knowledge of his or her character and behavior. When Bill Wilson went on a major dry drunk, he was confronted by fellow A.A. members who knew him well.
You're gonna have to serve somebody,
Well, it may be the devil or it may be the Lord
But you're gonna have to serve somebody. Bob Dylan
Call your sponsor's sponsor (your grand sponsor) and talk to them if the problem continues for an extended period of time and is interfering with the sponsorship relationship. Consider finding a temporary sponsor. When a lapse in working the program renders your sponsor unable to assist you with the Steps, you need someone who can provide the necessary guidance for you to continue working them.
WHAT IF I FIND MY SPONSOR HAS NOT BEEN HONEST WITH ME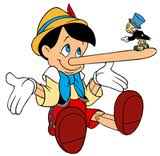 If memory serves, the truth was misplaced, baked in half and then kicked to the curb
It depends what your sponsor hasn't been honest about. If your sponsor has lied about something related directly to the program, such as their recovery date or the Steps worked, or has lied in an effort to persuade you to do something you would not have done had you known the truth, find another sponsor. If you find out that your sponsor is a chronic liar, find one that isn't. It pays to be honest and to some it doesn't pay enough. Diogenes was the man who walked the streets of Athens. He never found an honest man. Rigorous honesty is the basis of all Twelve Step programs. It is what you are trying to learn. You can't learn it from a dishonest sponsor, although, lest we forget, it is the Steps and not a sponsor who will ultimately teach you to be honest. Something's are best unsaid. if you are new to sponsorship and your sponsor's secret is a deep one unrelated  to the program it may be that your sponsor felt it was too soon to reveal it. You will have to make the call.
WHAT IF MY SPONSOR OR I WANT TO BRING UP ISSUES FROM OTHER TWELVE STEP FELLOWSHIPS?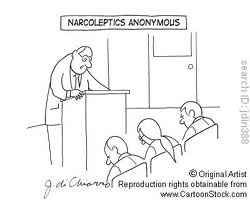 I have so many addictions and so little time; does anyone offer a discounted bundle?
There are several factors to consider in answering this question: They are
(1) your length of recovery from your primary addiction,
(2) the nature of the other Twelve Step group, and
(3) who is bringing up the other issues.In general, it is better in the first year of recovery to focus exclusively on your primary addiction, the addiction that is more lethal and deadly.
However if you are addicted to more than one psychoactive chemical (such as alcohol and other drugs), I recommend one addiction at a time– the nuances can be worked out later. Let's concentrate on getting you through the Steps in a thorough yet timely manner. In the end, we do not want to say the operation was a success (they went to many fellowships) but the patient died.
A secondary addiction can often lead back to the primary i.e. sex addiction back to alcohol. In my experience, the secondary addiction comes on with renewed fervor trying to find an outlet to distract from the gnawing pain of abstinence and the hard work of recovery. This is where we more often find grace from an all loving, all knowing and all powerful God– where we are saved by grace after all that we can do.
If it is you sponsor who raises the other Twelve Step group issues because he or she is pushing their codependency, compulsion or addiction issues onto you, discuss the problem. You have asked your sponsor to help you with your primary addiction program. You have the right to restrict their guidance to that area.