WHAT IF MY SPONSEE ASKS FOR MONEY, A PLACE TO LIVE, OR TO BORROW MY CAR?
Well you can't sleep in my digs
Well you can't borrow my car
I won't let you use my debit card
It's never gonna get that far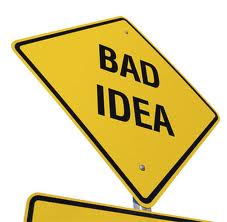 Tell your sponsee the answer is no, and that no is a complete sentence. Sponsorship is a special relationship created to help your sponsee stay in recovery by helping them work the Twelve Step recovery program. If you try to make it into something other than that (a love relationship, a buddy relationship, a banking relationship, an employer relationship), it may destroy the effectiveness if not the usefulness of the sponsorship.
Don't borrow and don't lend
For most of the time you loose the loan and the friend,
And when you borrow it is not a wise use of resource and makes a beggar of utility
The important thing to remember is to be true to you
And if you are, it is as plain as night and day
You will be true through and through  (a parody of William Shakespeare)
Friendships and families not to mention sponsorships-have broken up over questions of money. One of the ground rules from the beginning should be not to lend money, furnish lodging, provide an automobile, or do similar favors for sponsees. These services are not part of the purpose of sponsorship. Refuse any effort by your sponsee to abuse the relationship in this manner. If you want to lend your sponsee money, you can certainly do so, but it is suggested to have your sponsee get a different sponsor in order to keep priorities in line with working the Steps and not worrying about paying you back.
HOW MUCH ADVICE ON MATTERS OUTSIDE THE PROGRAM SHOULD I GIVE MY  SPONSEE?
PEOPLE WHO GIVE ADVICE ARE IN THE MOST NEED OF IT
I ALWAYS ADVISE PEOPLE NEVER TO GIVE ADVICE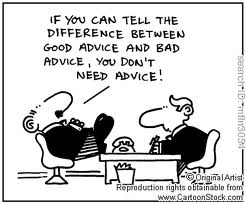 We are not in a position to advise our sponsees on their jobs, their spouses, their girlfriends their boyfriends or whether or not they should go back to barber collage. What we can suggest is that they apply the Steps to these issues, especially the Third and Eleventh, and practice Twelve Step principles in all of their affairs. One of A.A.'s Twelve promises is that A.A. members will intuitively know how to handle situations that used to baffle them ( we can now baffle situations that used to handle us) . If our sponsees rely on the Steps and the God of their understanding, the answers will take care of themselves.
WHAT IF MY SPONSEE HAS A DUAL ADDICTION?
DR JEYKL IS AN ALCOHOLIC AND MR HYDE IS A CRACK ADDICT WE ARE BOTH CODEPEDENT AND SPEND ALL OUR TIME FILLING OUT NAME TAGS AT THE CONFERENCES
When the sponsee is a newcomer, it makes sense for him or her to attend Twelve Step meetings for a secondary chemical addiction if they are comfortable doing so. Each Twelve Step program claims expertise only in a particular area. It makes no claim whatsoever to being able to help somebody with any other addiction. So the decision about going to other Twelve Step meetings is one that you and your sponsee should discuss.