WHAT DO I DO WHEN MY SPONSEE IS SEEING A THERAPIST WHO SAYS THAT THE SPONSEE  DOESN'T  HAVE TO WORK THE STEPS BECA– USE THEY ARE COVERING THEIR BASIC PROBLEMS IN THERAPY?
DR. FRANKENSTIEN HAS SUGGESTED A SIMPLE BRAIN TRANSPLANT, THE BRAIN OF ABBY NORMAL IS AVAIABLE THE ONLY SIDE EFFECT IS HE COULD BE AN ALCOHOLIC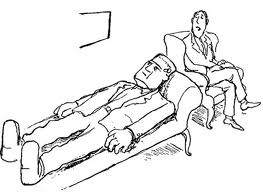 "The bad news is, the doctor gave you an alcoholic brain; So you are naturally attracted to barrels, kegs ,and to be perfectly frank  and steins. 
First, a little background. Beginning in the summer of 1944, after nine years of sobriety, Bill Wilson sought treatment for depression from Harry Tiebout, M.D., a nonalcoholic psychiatrist.
Dr. Tiebout was an early and enthusiastic supporter of A.A. and the two men developed a longstanding  friendship. During this period, Bill Wilson relied on A.A. and its Twelve Steps to keep him sober. He relied on Dr.Tiebout to help him make progress on other issues in his life. Dr Tiebout never presumed to treat Bill's alcoholism.
The first human who hurled an insult instead of a stone was the founder of civilization. Sigmund Freud
Twelve Differences Between Your Sponsor And Your Therapist
1. Your sponsor isn't all that interested in the "reasons" you used. 2. Your therapist thinks your root problem is your lack of self-esteem, negative self-image, and your poor self-concept. Your sponsor thinks your problem is a 3-letter word with no hyphens: YOU. 3. Your therapist wants you to pamper your "inner child". Your sponsor thinks it ought to be spanked. 4. Your sponsor thinks your inventory should be about you, not your parents. 5. Speaking of your parents, your sponsor tells you not to confront them, but to make amends to them. 6. The only time your sponsor uses the word "closure" is before the word "mouth". 7. Your sponsor thinks "boundaries" are things you need to take down, not build up. 8. Your therapist wants you to love yourself first; your sponsor wants you to love others first! 9. Your therapist prescribes care-taking and medication. Your sponsor prescribes prayer-making and meditation. 10. Your sponsor thinks "anger management skills" are numbered 1, 2, 3, 4, 5, 6, 7, 8, 9, 10, 11, and 12. 11. Now that you haven't used in 6 months, your therapist thinks you should make a list of your goals and objectives for the next 5 years, starting with finishing up that college degree. Your sponsor thinks you should start today by cleaning the coffeepots, helping him or her carry a heavy box of literature to the jail, and making your bed. 12. Your sponsor won't lose his or her license to practice if he or she talks about God.
Coming between your sponsee and their therapist is a no win situation. You have the right, however, to point out to your sponsee that Twelve Step programs are the most effective treatment for addictions and compulsions,  a statement confirmed by scientific research, common sense and years of practical experience.
What your sponsee claims the therapist has said and what the therapist has actually said may be very different. Ask your sponsee if they are trying to use the therapist as an excuse to avoid the hard work of the Steps. If your sponsee continually refuses to work the Steps continue to make them available. Remind your sponsee that if they are not working the Steps they maybe sober but they are not in recovery. When life on life's terms make it an imperative, when the pain of living becomes great enough your sponsee will be ready and not before.
WHAT IF MY SPONSEE IS SUICIDAL?
SUICIDE IS THE SINCEREST FORM OF SELF-CRITICISM
SUICIDE IS A PERMANENT SOLUTION TO A TEMPORARY PROBLEM
YOU CAN ALSO REMIND YOUR SPONSEE, THAT SUICIDE IS ALSO CONSIDERED A SLIP AND IF THEY ARE DEAD MORE THAN THREE DAYS  THEN IT'S  DEFINITELY A RELAPSE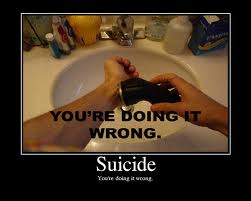 There is no easy answer to this difficult question. Each situation is different. If there is a clear and present danger, you may need to suggest that your sponsee call 911. Otherwise, we have a responsibility to see that our sponsee has told a member of their family (spouse, sibling, parent) about the suicidal feelings or that they have sought professional help.
When you have a new sponsee consider getting contact information full name address of residence current phone work place and phone (if your lucky) and an emergency contact person, phone and address. Dr. Bob said that there was two ways you could break anonymity, one was in press radio and film and two if that you were so anonymous that the other drunks could not find you. (When common sense becomes uncommon sense)
 If there is ever a question about medication I suggest that the sponsee might consider getting another medical opinion from a certified health care professional, and that would be a period.
Suicides often give you no signs, and if a savvy sponsor suspects he can contact the family , if you guess that he is in immediate danger 911 would be reasonable, but in my experience the true suicide does not broadcast the fact for they have had made up their minds and find a form of solace in the prospect of the coming relief from an eternal peace and the perceived burden to society at large  that they have now become, and will go to great lengths to insure that their attempt will not be thwarted, if nothing else they want to make sure they get at least their last act correct and thus being remembered as having at least done something right.. Some folks  with long term sobriety who are temporarily  unable to cope with life on life's terms and can not or will not even consider to  be disloyal to the program of recovery by opting for the ease and comfort  of the first drink of alcohol and the respite from oblivion often times  see suicide as their only option.
Some folks with long term sobriety who are temporarily unable to cope with life on life's terms and can not or will not even consider to be disloyal to the program of recovery by opting for the ease and comfort of the first drink of alcohol and the respite of oblivion they will  often times see suicide as their only viable option.
For if an alcoholic failed to perfect and enlarge his spiritual life through work and self-sacrifice for others, he could not survive the certain trials and low spots ahead. Page 14 Big Book
Beyond that, all you can do is be available on a reasonable basis and turn it over. The basic guidelines is that you are not in charge of your sponsee's life, and even a decision as profoundly as important as life or death is your sponsees to make. It is not in your power to keep someone alive.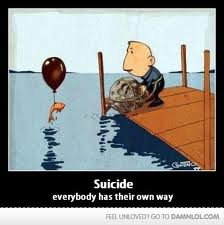 No man who is occupied in doing a very difficult thing, and doing it very well, ever loses his self-respect. George Bernard Shaw
You also have a responsibility to yourself in these cases. Should your sponsee commit suicide, you want to know that you have done everything you could reasonably have done to prevent it. In the tragic event that your sponsee opts for the solution of death to relive their alcoholism, you don't want to burden yourself with guilt because you did not urge them or  to get help or second guess yourself that if you has done things differently. Ask yourself what behavior would be reasonable under those circumstances. Seek the advice of your sponsor Do all that you can do and turn the rest over to God. Remember, it's a fool that seeks logic in the chambers of the human heart. There is always sadness at the fall of a comrade. This unfortunate turn of events should not stop us from working with the new man. We remain in action being of maximum service to God and our fellows and we let the dead bury the dead.
Pat J wrote  Amen! I am a liveing breathing…testimony! On 5/9/2014 two day's..before (Mother's Day) I attempted to take my life. It was the (lowest) in my recovery after being, clean nearly 10-year's into my recovery. Once, God gave me enough grace! To finally awaken in the hospital looking into the faces, of family & friend's I first asked…God to forgive me. Secondly, after getting better I had to (explain) what overtook me…exactly at that moment. To my 2-closest friends my (son) my only child. Also, my Mother once I sorted out my (emotion's) the only way, I could explain it was that my mind (literally) left me for a moment, & I was filled with terrible pain I had no (idea) what to do with! The only thing I knew..for sure is that, I had work too hard..in my recovery program to go back to even more pain & Misery by trying to Self-Medicate! So, on one day, in one moment (without) any premeditation. Without, even leaving a (note) to my only child, whom would have been completely devastasted! I actually (believed) I could make a permanent solution. To what today I have the (clarity) to see now was only a temporary problem! So, now today…I have completely (surrendered) to the program. Never again will I try to (manage) & control anything in my life ever again, once I awake I received a (Spuritual) Awakening..that only my (HP) alone…hold that power! (Be…Blessed)! What comes from the heart…goes to the heart! (R.I.P) My brother…Robin Williams! ( Had just committed suicide Aug 11 2014)