Eeny, meeny, miny, moe; I need a sponsor for I am ready to go. Manny, Moe or Jack? I guess Moe, I've had too Manny, and I don't know Jack.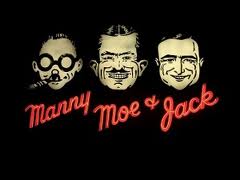 Choosing a sponsor is something like choosing a friend. Sometimes it just happens, and sometimes it's  planned (he got you)  There is usually an attraction of some kind. They said something in a meeting that you connected with, a smile, a firm handshake, they owned A.T.T.
STANLEY TO DR. LIVINGSTON UPON FINDING AN AA SPONSOR, MAY I PRESUME ON YOU?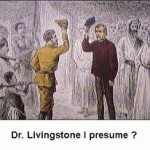 There are four points in a compass. These are four suggestions to get our bearings and put us into the right direction.
1. Finding a temporary sponsor
2. Guidelines for choosing a primary sponsor
3. Interviewing a potential sponsor
4. If a potential sponsor says no
All alcoholics anonymous sponsorship is temporary. It is either for a day or for a life time or anywhere in between.The Interim or temporary sponsor helps us make the transition in a number of ways. They can answer our many questions; explain program concepts terms and the jargon of recovery.  They can introduce us to the members of our home group so we begin to feel right at home.They are  able to give you your captain midnight decoder ring and the most sought after and coveted   secret handshakes. Most importantly they get us started working the Steps and help us to recognize and apply the principles that will guide us through to a new design for living. Sometimes our temporary sponsors become our permanent or primary sponsor. The difference: we did not take a long time choosing them, God and the fellowship was doing for us what we could not do for ourselves.
I REF– USE TO JOIN ANY CLUB THAT WOULD HAVE ME AS A MEMBER Groucho Marx
The Marx brothers, bottoms up, Groucho, Chico, Harpo, and Karl?
A temporary sponsor gets us into action so we can feel apart of instead of  apart from.
To find a temporary sponsor- ask the secretary or chairperson of every meeting you attend if the group maintains a list of temporary sponsors? Call them. If you like what you hear on the phone, set up a meeting to discuss sponsorship. You can announce in a meeting that you are looking for a temporary sponsor and ask for volunteers. Even with a temporary sponsor, be sure the person has quality recovery and is willing and able to support your needs. (See interviewing a prospective sponsor) If you have made the temporary commitment to try our way of life just for today and picked up your desire chip, DO NOT LEAVE THAT MEETING WITHOUT A TEMPORARY SPONSOR. Otherwise you are just circling the field waiting to run out of spiritual gasoline  and heading for a crash and burn. Courage is what we do  in spite of being  unsure or afraid. The hero and the coward walk hand in hand, taking action or frozen in time is the divine  dividing line.
HAWK EYE AND HIS SPONSEE CHINGACHGOOK RESCUE A NEW COMER FROM THE CLUTCHES OF ADDICTION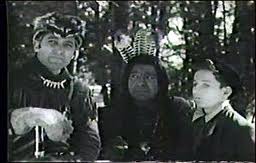 How long do I have to wear these feathers?
Addiction is a dangerous, often deadly, disease. Most of us come to recovery because we have no where else to go. It is often called the last house on the block. The bulwark that stands between us and addiction is the program of recovery and the offer of a spiritual solution. An important part of maintaining our recovery is finding a sponsor to help us in working the Steps. It is important however to remember that the sponsor you came to the dance with might not be the sponsor you leave with. If the sponsor you pick or the sponsor that picks you is not a good fit, then it's adios amigo or amiga, as the case may be.
Before you have a parting of the ways, examine your motives. Is it that you do not want to do the work or look that deep? Be polite and courteous and explain your reasoning; this is also a part of recovery. The Big Book, the Twelve and Twelve, and God always have the final say.
LIFELINES FOR AND AFT; SET THE MIZEN AND THE MAIN; NO LOUNGING, LADS; WE ARE GETTING AROUND TO THE CAPE OF RECOVERY, SOBRIETY AND GOOD HOPE
There's gotta be an easier way to find a sponsor.
Seek and you shall find; look for a sponsor who
1. Has what we want (Recovered from a hopeless state of mind and body)
2. Lives in the solution (Not in the problem)
3. Walks the Talk (Takes the actions) 
4. Has a sponsor (Actively works the Steps with a sponsor)
5. Emphasizes the Steps (The Steps are the program of recovery)
6. Lives life like a loose garment (Stopped fighting everything and everyone including alcohol)
7. Has worked more Steps than we have (Step Five and you are on your way)
8. is available for telephone calls and meetings (actually answers his cell phone and returns calls in a prompt and courteous manner, OK,  he makes him or  herself available)
9. emphasizes the spiritual aspect of the program (and what does it consist of)
10. is of our same gender (easier to relate to, but the suggestion is you work the steps and if it is not working for the both of you get another sponsor)

The question is can thorough rob timely?
HAS WHAT WE WANT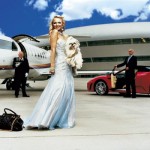 I want a Mercedes Benz, a house on a hill, a beautiful wife, and time to kill. That might work for you, but what you might consider is someone who has been where you have been and has come out on the other side. All a sponsor can offer is their experience strength and hope. The Twelve Steps is a God given treatment program  and it  is for people who want it and not for people who just need it. For many are cold, but few are frozen.
LIVES IN THE SOLUTION
All sobriety is not created equal, and length of sobriety is by no means a guarantee of its quality. In choosing a sponsor, pick someone who lives in the solution and not in the problem. Find someone who applies the steps in their lives each day, who handles life competently and with expectation, and who has a positive outlook on life. A sponsor can only offer us what they already have, the last thing we need is old addictive thinking to guide us (even if the addict is clean and sober, they are not in recovery.)
WALKS THE TALK
Some of the best shares I have heard in meetings were from those who eventually went back out into the world of addiction. They knew the pat phrases and had the lingo down. The behavior did not match their lofty platitudes. I could not hear them for their body language was much too loud. Are they into service? Do they work the Steps? Is love and tolerance their code? Are they into action? Action and more action. The Twelve Step program is a program of action. We are saved by grace after all that we can do, not after all that we can talk.
HAS A SPONSOR
Critical mass- make sure whom ever you pick as a sponsor has a sponsor. No ticky, no laundry. Your sponsor needs a sponsor to continue to work the Steps themselves. There may be a time when there is a need to consult as to the proper direction and application in your recovery program becomes necessary. This person is your grand sponsor. It is not necessary to send them a card on Grand sponsors day, but it's nice to know that they are there.
EMPHASIZES THE STEPS
If you're not working the Steps, you might be sober, but you're not in recoveryThe Steps are recovery; choose a sponsor whose focus is getting you through the Steps in a timely yet thorough manner. A sponsor will direct all reading and writing assignments to the Big Book and the Twelve and Twelve. There is some question in the program as to the timing. Blind Dave in Austin takes his sponsees through the Steps in eight days and then holds a workshop for all his sponsees once a month. J.P. in Houston claims to do it in one sitting (whew, I am tired just thinking about that.) Dan S. from a club in New Jersey told me that they require a year of meetings before your allowed to work the Steps. Some in my home group in Houston use a Step a month. And then some have no stated time goal and just go along with the flow. I suggest 30 to 45 days  which require time sensitive assignments (it's just a goal, not written in stone) while the pain is still fresh and the motivation is still acute. I have been successful in this approach as it gets the sponsees in the trenches as a sponsor working intensely with another alcoholic that much sooner. Bill Wilson had 5 months sober when he worked with Dr. Bob.
WEARS LIFE LIKE A LOOSE GARMENT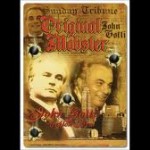 The Teflon Don has got nothing on my sponsor.
The art of living in acceptance. Accepting their role in the world. No great highs, no great lows, steady as she goes. Stopped fighting everything and everybody a long time ago. Having a new employer; seeks to be of maximum service. Interested in what he can pack into the stream of life. Does the next right thing and doesn't buy into the outcome of anything. Seems to quickly recover from life on life's terms. Easy to laugh and slow to anger. lives life like a loose garment. Lives by the code of love and tolerance, and is easy to be around.
HAS WORKED MORE STEPS THAN WE HAVE
Has been on Step one since the beginning of time, lives in the meetings and knows all their lines– that would be a big No.
Our sponsor must have worked the Steps that they are going to help us work. AA is grounded in experience, not theory. If our sponsor has not personally worked the Step, they can lead us to it, but they can't lead us through it.
So we should choose a sponsor who has worked more Steps than we have (or the same number, if we both have worked all twelve). I believe that potential sponsees should find a sponsor who has worked at least the first five Steps. That number allows a sponsee to grow and ensure that their sponsor has completed the difficult Fourth Step and has examined his or her character defects with another person. If we get ahead of our sponsor in working the Steps, we need to find another sponsor.
IS AVAILABLE FOR TELEPHONE CALLS AND MEETINGS
My high profile sponsor is touring Europe and my program has been put on pause. Not all sponsors are equally available for sponsee telephone calls and for meetings. Travel schedules, work schedules, family responsibilities, social engagements, and personal preferences influences how often contact can occur between sponsors and their sponsees. Sponsorship works best when our sponsor's frequency of availability meets our need for frequency of contact. For that reason availability is a factor in choosing a sponsor. The only way to determine whether the match will be a good one is to discuss it ahead of time.
EMPHASIZES SPIRITUAL ASPECT OF THE PROGRAM
Religion is for people who don't want to go to Hell; spirituality is for people who have already been there.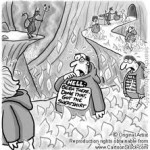 Hell, been there done that, and got the sweat-shirt
Since the Twelve Steps make up a spiritual program and since many people have difficulty with the spiritual aspect, it's important to know where our potential sponsor stands on this critical issue. Our sponsor can only share their experience, strenghth and hope with us. Therefore, only those who have a spiritual program can share it.
Can you take a suggestion
ask a potential sponsor
1. To what degree he or she emphasizes the spiritual aspect of the program?
2. Are they willing to work closely with you in developing your own spirituality?
An atheist says there is no God and lives like there is one. An agnostic says there might be a God and lives life like there isn't.
If you are an atheist or agnostic who is open to believing in a Power greater than yourself, choose a sponsor who will work with you on the spiritual aspect of the program. Otherwise you will do better with an atheist or agnostic sponsor.
GENDER IS THE SAME AS OURS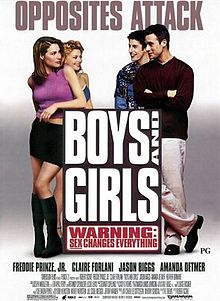 Boys to the right, girls to the left– this isn't about romance, this is about life and death.
The sponsee – sponsor relationship is a very intimate one. Exposing ones innermost self and the consequential sense of vulnerability can be misconstrued and easily turned into a romantic fantasy where both parties become excessively or improperly intimate or exclusive, resulting in grave regrets and dire consequences.
Generally, a same-sex sponsor is also easier to identify with.In the case of gay men or lesbians, same-sex sponsorship precautions need to be taken to avoid sexual entanglements.
Consider that 20% of the people are doing 80% of the work which includes sponsorship, consequently when someone is ready to work the steps and in the rare and unlikely event that  a like gender sponsor is not available, first ask yourself have you gone outside of your comfort zone, meaning other A.A.  meetings in the vicinity and have made a diligent and concentrated effort to find a a same gender sponsor and was not successful, now what? you work the Steps and trust in God to do the rest. And like always, if it's not working out you can always change sponsors , even when a still further and extra effort is so required, for we agreed in the beginning that we would go to any length to achieve sobriety.
(consider if, or when a man approaches a new comer women and offers to sponsor her, the first thing she would have to find out if  he is  still stealing horses. If the reverse was true  we would just call the guy lucky, because that is a horse of a different color)
AN INTERVIEW FOR LESS OR MORE, ALL I KNOW IS THAT I NEED TO GET STARTED AND I NEED A SPONSOR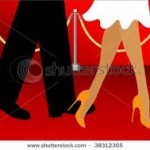 On the red carpet of recovery, there are several sponsor stars– who's doing the talking and who's doing the walking?
We can theorize all we want about whether or not someone will be a good sponsor, but we won't know until we do some investigative work. The only way to determine whether or not a potential sponsor will be a good match for us is to meet with them to discuss sponsorship. Such an interview can be an intimidating experience, especially when we're new to recovery. But the purpose of the interview is not judgmental, It is analytical. The question it seeks to answer is Do we both think sponsorship will work for both of us? Sponsorship has to work for both parties or it will not work at all.
A program member who is a great sponsor for one person may not be effective for somebody else. One size does not fit all. I was once fired three times by a sponsee. First time he did not believe we were a good fit. I suggested we continue working the Steps while he went to meetings and looked for another sponsor. He called the next day and told me how grateful he was that I was his sponsor. The next firing was because he felt his main addiction was cocaine and not alcohol so he really needed a sponsor from cocaine's anonymous. I told him he could be right but let's proceed any way. The next firing was that he needed a Jewish sponsor; this time I relented. He keeps coming back; if nothing else, a head full of A.A. has ruined his drinking and drugging career,for there is nothing so tormented as a head full of A.A.and a belly full of booze, and sometimes that's the best we can do.
IT'S NOT AN INTERVIEW WITH A VAMPIRE, BUT IT COULD BE A LITTLE DRAINING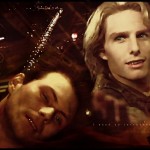 In the interview, ask your potential sponsor whether or not they have read the Big Book, make study assignments, and will meet with you regularly. Ask what their expectations and requirements are and what they think the role of a sponsor is. Ask questions that are important to you about the program such as:
* Spirituality
* Recovery
* The Big Book
* Ethics
* Confidentiality
* Mutual honesty
* Working the Steps
* Meeting attendance
* Sponsor availability
* Frequency of contact
* When and where to call
* Sponsor replacement
And any personal data about your perspective sponsor- whatever will help you determine if this person will be a good sponsor for you.
WHY YOU GOTTA BE SO SHY? DO YOU WANNA LIVE OR DO YOU WANNA DIE
Part of accepting responsibility for our sobriety is being thorough in choosing a sponsor. As newcomers, we can seek the advice and support of our temporary sponsor as well as trusted friends. We can even propose the topic of finding a sponsor in meetings. Finding a sponsor is a rite of passage in Twelve Step programs. It is a natural and important part of growing up in the fellowship.
Remember that you don't have to do the interview perfectly, and if you make a mistake, you can always change sponsors.
WHAT PART OF NO, DON'T YOU UNDERSTAND?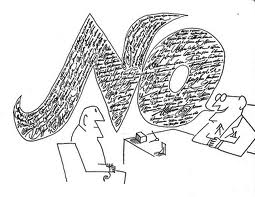 We all fear rejection. It is a frightening prospect to think that we might finally get up enough courage to ask someone to sponsor us only to have that person to say no. When we are new in recovery, we tend to think that such a rejection is all about us. It is usually not. There are many reasons why a potential sponsor might reject out request to be sponsored, none of which has anything to do with us.
Some of these reasons are:
1. The person is currently sponsoring as many people as they can handle. A sponsor who takes on too many sponsees does each of them as well as himself/herself a disservice.
2. The person is not taking on new sponsees because of a heavy travel schedule, a planned move, or just where they happen to be in life or in the program.
3. After discussing the potential sponsorship, the person realizes that the match would not be a good one. The conclusion is as much about the potential sponsor as it is about us.
IT'S NOT ABOUT YOU, IT'S ABOUT ME, OH, IT IS ABOUT YOU
Potential sponsors are usually careful to explain why they won't agree to sponsor somebody. After all, they were once looking for a sponsor themselves, and they remember what it was like. Also sponsorship is a service opportunity that offers many rewards. Being a sponsor is one of the privileges of being a Twelve Step program member and one of the ways we stay in our own recovery. To learn the Steps you have to teach the Steps, so the natural inclination is to accept a new sponsee. Just like in the real world 20% of the people are doing 80% of the work, so get some chap stick and prepare to kiss a pond of  frogs .
SPONSORSHIP EDIFIES BOTH THE GIVER AND THE RECEIVER. IT IS A GIFT AND A PRIVILEGE AND HELPS INSURE A HAPPY, JOYOUS AND FREE LIFE
The Quality of sponsorship Is Not Strained. … It is twice blest: It blesseth him that gives and him that takes.
If a potential sponsor says no, it's important to move on and find someone else. While the rejection might be painful at least we tried. And we learned something from the experience. The next time we will know more about the process. And we will have something else to share with our sponsees someday.