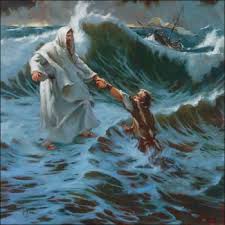 Peter's footing was made sure upon the billows serene as his sight was fixed upon the gleam in Jesus' eye.
The storm surged as the world would turn and he lost his gaze of faith.
The fear of concerns ever loomed, he would be consumed and doomed to the depths, as the master's arm outstretched would wrest his disciple from the rage and then the grave.
For the storm did abate the moment Peter was safe upon the frail crafts weathered worn planking.
The master  was at the rail and at his side, for the storms of the world would churn, and wait their turn.
The life boat with its precious cargo crossed over to safe  harbor,  afloat in a sea of glass
For there are no more tears and waves disappear when my savior draws near.
Jesus abide with me it is even tide.
See you on the radio
RumRadio.org
Joseph Ganci Jr.