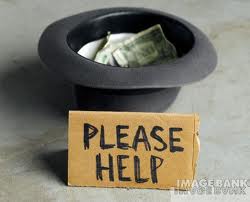 The collection Hat comes back flat G.SO in dire straits,Grapevine feeling the Crush
Hi there,
I realized from going through my email addresses that you may not have heard from me in a while.  Thank you for being a part of my journey on the road of Happy Destiny and know that I value your part in my recovery.
I've heard it year after year.  GSO is not supported by the groups and members.  The Grapevine is struggling and La Vina is too.  Well, I finally did something about it, and I'd like to challenge you to consider some action, too.
I had let my subscriptions lapse, and I haven't been as diligent about sending in my AA Anniversary contributions (you know, the $1/year of sobriety one they even print envelopes for?) and this year I was troubled by our delegate's report about the state of GSO finances.  Then we read Tradition 7 at my home group from the 12 & 12, about how Bill would give a huge contribution to help out a slippee, but wouldn't contribute to the hat as willingly.  I had to look at my own behavior.
Where would I be if GSO hadn't been there to send English Big Books to our group in Japan when I was getting sober?  How many times have I picked up a Grapevine laying around my home, a group, or a club, and read exactly what I needed to read that very day?  How many times have I handed a newcomer the Grapevine, hoping they might find what they were looking for and keep coming back?  Do I really want to see this publication die?
And if our La Vina isn't published, our Spanish speaking members must subscribe to the Mexico monthly publication, and pay higher shipping and import fees.  Do I want my Spanish speaking friends to have the same resource for recovery that I have?
Within a week, I had gone online and made my Gratitude donation to GSO – $1 for each blessed year I've had in this fellowship.  Yes, you can make your contributions online now!  No finding a check, an envelope, a stamp or the address of where to send it is required!
Then I got online and subscribed to both the online and paper versions of the Grapevine, and got a La Vina, too.  I plan on giving them to my local Spanish groups.
So what if I don't have time to sit and read them every month, or don't know the language of the Spanish versions., I bet I can drop them off on the literature table, or give them to my GSR or Corrections person to pass on to others!
I've heard it estimated that if each AA member contributed $1 every year to GSO, it would have sufficient funds for normal daily operations, and the ability to translate the Big Book and other literature into more languages, so we can carry the message even more.  Instead, it's limping along and cutting back on services.  All for want of $1 per member per year, which was Bill's original challenge years ago when the office first opened, and $1 was worth a lot more than it is now.
So here's my challenge.  Contribute and subscribe.
$1, $1 per year of sobriety, doesn't matter.
And challenge those you know to do the same.
Sometimes I need to be willing to put my money where my mouth is – and this is one of those times.
Here are links to get you started:
AA Contributions:  https://ctb.aaws.org/Login.aspx?ReturnUrl=%2fdefault.aspx%3flang%3den&lang=en
Grapevine Subscriptions:  http://store.aagrapevine.org/SubscriptionCombo.aspx?PC=AG
I want GSO, the Grapevine and La Vina to survive.  And for that, I am responsible.
Cecil R.
Albuquerque, NM
Hi There Cecil
Yes I have heard about the financial hard times for both the GSO and the Grapevine. In 1981 there was 2,000,000 in the rooms according to the GSO (counting cats at best) Jan 2010 same GSO guessing the error rate would be close ,but still counting cats, 2,100,000.
The world population has increased by a full 1/3 since 1981, If we had 3,000,000 we would have flat lined, but alas we have lost ground that is one of the reasons for the financial down turn.
We as an organization have lost our momentum. In my experience the groups are not following the Traditions, every street corner church uses a variation of the Steps. (I tell my church, "If the Twelve Steps are not a gift from God why have you adopted them? And if they are a gift from God why do feel compelled to change them?")
Twelve Step calls are hardly heard of in some parts of the country because the rehabs are flourishing more than ever. My home group here in Houstonis a primary purpose with a younger base of participation. Often times than not the basket comes back nearly transparent but all have the money for tobacco, where is your singleness of purpose I would decry. I believe this to be a innate sense of entitlement coupled with the inability to attain and maintain long term sobriety because a lack of sponsorship knowledge and skills.
Bill W. said" Good Sponsorship can often mean the difference between LIFE & DEATH."
Find a prospect, and start working on him: The Big Book, 3rd Edition, William G. Wilson, page 89.
I believe the biggest cause of the shrinkage is lack of direction in the sponsorship arena. The GSO pamphlet is flimsy at best as it still suggests a year of continuous sobriety before sponsoring? Where the heck did that come from? I had a sponsee from New Jerseyand in his home group you had to go to meetings for a year before you could work the Steps (I bet Dr. Bob would be turning in his grave)
If you want to get this ship off the rocks lets sound the trump and get back to basics, that's when we had the greatest growth and was the most effective.
In my small way I have put together a website of understandings on sponsorship there is no money being made and we adhere to the Eleventh Tardyon as best we can.
The website is RumRadio.org we are in 141 foreign countries including Mississippi,2,407 towns cities and villages with 150,432 hits to the website mostly by word of mouth  to date we will be three yrs. old this Sept 10. All we ask is that you use the tools laid at your feet. Open your mouth and pass it on.
Remember that this is about a little money and a lot of action.
See you on the radio
RumRadio.org
Joseph